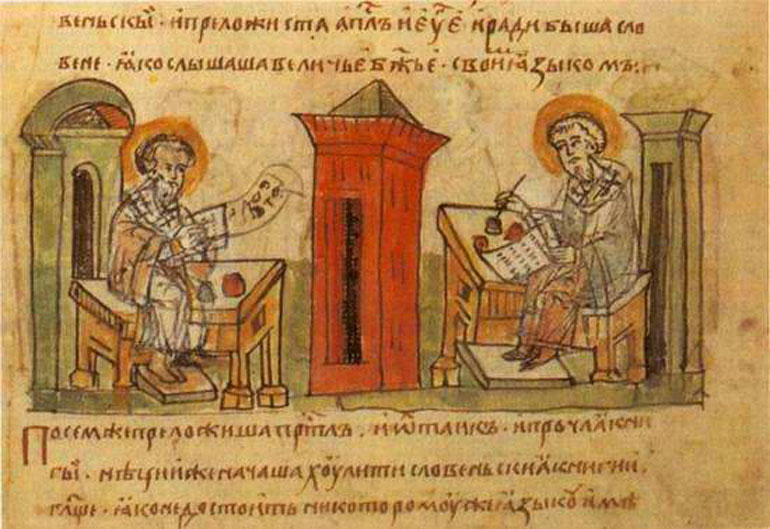 Cyril and Methodius creating the alphabet. Miniature from the Radzivilov Chronicle
The Slavonic Literature and Culture Day is celebrated on 24 May. It is dedicated to the day of memory of the holy Equal-to-the-Apostles brothers Cyril and Methodius, who united the fraternal peoples with a single written tradition.
The new alphabet was created in around 863. Scientists still have not come to a consensus whether it was Cyrillic, named after one of the brothers - Cyril, or Glagolitic (from the word "glagolit'", that is, "speak") .
According to one version, Cyril and Methodius created the Cyrillic alphabet, and later, on its basis, the students of Methodius came up with the Glagolitic alphabet in order to continue the spread of the Slavic script. According to another version, Cyril and Methodius became the authors of the Glagolitic alphabet, and then a student of Cyril named Clement of Ohrid composed the Cyrillic alphabet.
There was much in common between the two alphabets, they differed in style and were used by the Slavs in parallel. Gradually, the simpler Cyrillic replaced the Glagolitic in the south, and in the west it was replaced by the Latin alphabet.
Each Cyrillic letter had its own name, some of which formed semantic rows that helped students to quickly memorize the alphabet: "Az Buki Vedi" (meaning "I know letters"), "Glagol Dobro Est'" (meaning "Said word", "Goodness", "Is" from "to be").
Many modern Slavic alphabets have been created on the basis of the Cyrillic alphabet, as well as the alphabets of a number of other languages. The Slavonic Literature and Culture Day reminds us that the Slavic peoples have common origins, as well as the role of literacy in the spiritual development of people. On this day, scientific and creative events dedicated to Slavic culture are held, and festive services are held in churches.